St Mary the Virgin, Langley
About Us
Find Us
Contact Us
Services and Events
Features and Facilities
More Info
Welcome to St. Mary's, Langley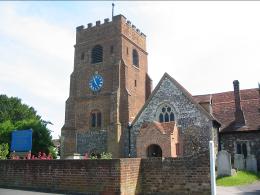 There has been a worshipping community on the site of St Mary's Church for many hundreds of years, and over that time, many generations have prayed, struggled and celebrated, and many thousands have been baptised, married and buried here.
Today's congregation faces much the same questions: How are we to live as disciples of Jesus Christ through all the challenges of life? How are we to make a difference for good in a world that has such great needs?
We are a warm and welcoming congregation, where young and old learn and grow and serve together. We worship in a relaxed but traditional style, with robed choir and organ, at our main Communion service each Sunday morning.
Parish boundary view Bird's eye view
This space is for a Google Map.
You are seeing this message instead because your browser has not loaded the program code to produce the map.
This could be for a variety of reasons, including:
Your browser does not support Javascript;
You have turned Javascript off
In addition we are aware of some problems with Internet Explorer which are currently being worked on. Firefox and Chrome show the map correctly.
Revd. Robin Grayson
The Rectory
3 St. Mary's Road
Langley
Slough
Berkshire
SL3 7EN
(01753) 542068
Sunday
Holy Communion
This is a said service, quiet and meditative.
Every Sunday at 8:00 AM for ¾ hour
Family Worship
It is a short, lively service, aimed at families with younger children.
Every third Sunday at 9:30 AM for ¾ hour
Family Communion
This is a sung service, with robed choir and organ, and an emphasis on inspiring worship, word and sacrament. There are many opportunities for all to participate: in lesson reading, in intercessions, in our Choirs, as a sidesperson, as a server, as a bell ringer, as a chalice assistant or in prayer ministry. During this service there is a Sunday Club for children from age 4, and a Crèche for younger ones. There are also toybags in church for those who want to stay with their parents.
Every Sunday at 11:00 AM for 1 hour and 15 minutes.
Evening Prayer
This is usually a said service, quiet and meditative. Once or twice a month it is a sung service, either with choir and organ, according to the Book of Common Prayer, or more informal, with songs from the Taizé tradition.
Every Sunday at 6:30 PM for ¾ hour
Other information
A Church Near You ID (venue number): 5915
CofE Church Info: (627668 27/668)
The current editor is: Graham Jones
This page was last updated on Monday 11th June 2012
St Mary the Virgin : St Mary's Road, Langley, Berkshire, SL3 7EL
Our Other Churches
Other Links